Better Efficiency, Better Care, Lower Costs
Health eNet connects you to physicians across Hawai'i.
We make interoperability possible. No matter what type of practice you have, EMR system you use, hospital affiliation, island or specialty, you can:
Access a database of 1.2 million patients and 20 million health records.
Refer patients electronically; no paperwork, fax or phone calls needed.
Send and receive Direct Secure Messages with other physicians.
Transmit immunization and tumor reports to Public Health Registries at the Hawai'i Department of Health.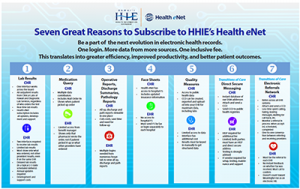 Along with full access to Health eNet services, all users are provided the following:
Personalized training from a Hawai'i HIE consultant • A full-time Help Desk •Follow-up webinars, video tutorials, and hands-on support • Access to premium consulting services: Quality Reporting Measures and HIPAA Security & Privacy.
Browse the Health eNet Suite of Services